EVENTS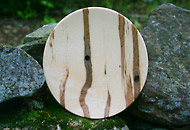 Turned Tapped Sugar Maples
I feature bowls and plates that are made of tapped sugar maple. The process of tapping for maple sap leaves a dark, dead wood area which creates very interesting patterns. Come by and check them out at these locations and events:
2013:
I'll have my bowls at numerous open air markets and shops throughout the summer. Please check back here for listings.
In addition, if you plan to be in the area, contact me about visiting my studio (map)
Bowls and other works can also be easily purchased by phone or email.